Scientific Notation
Scientific notation is a notation for writing numbers to make it easier to write large and small numbers. The basic expression for scientific notation uses powers of ten:
where
a
is the significand (or mantissa) and
b
is the exponent resulting in 1 ≤ |
a
| < 10
For two numbers in scientific notation: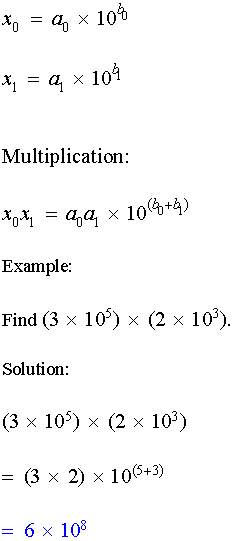 Addition/Subtraction:
Addition and subtraction require the numbers to be represented using the same exponential part, in order to simply add, or subtract, the mantissas, so it may take two steps to perform.
First, if necessary, convert one number to a representation with the same exponential part as the other. This is usually done with the one with the smaller exponent. Second, add or subtract the mantissas.