Transversals
A transversal is a line that intersects one or more other lines in the same plane. When two parallel lines are intersected by a transversal, two groups of four angles of equal measurement are created. The four smaller angles have equal measurements just as the four larger angles. If a transversal is perpendicular to the parallel lines, eight right angles are formed.
An example of a transversal line, t, intersecting two parallel lines a and b is depicted below: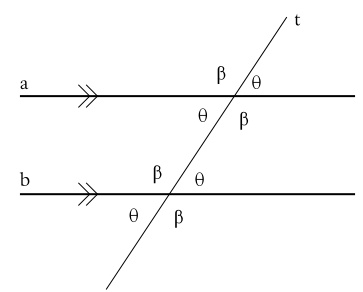 In the above figure,θ represents the smaller angle while β represents the larger angle. The angles contained in the figure may be categorized as interior angles and exterior angles.